We are in the midst of a global pandemic and understand that these are uncertain and stressful times. The COVID-19 pandemic is truly unprecedented and the situation is rapidly changing. Although the uncertainty about the future is the new normal, rest assured, the Student Health Center is here to help you. The SHC has evolved with the changes and adopted new ways to support you. We want to keep you healthy so you can focus on achieving your academic goals during these challenging times.
Please see below for answers to some frequently asked questions about COVID 19 and our services. 
What is COVID-19?
COVID-19 is a respiratory illness that is caused by a novel (new) coronavirus. Respiratory illnesses affect the lungs and airways.
The CDC reports that people with COVID-19 have had a wide range of symptoms reported – ranging from mild symptoms to severe illness. Symptoms may appear 2-14 days after exposure to the virus. People with these symptoms may have COVID-19:
Fever or chills
Cough
Shortness of breath or difficulty breathing
Fatigue
Muscle or body aches
Headache
New loss of taste or smell
Sore throat
Congestion or runny nose
Nausea or vomiting
Diarrhea
Most people have mild illness and are able to recover at home. Severe illness is more common in people with underlying health conditions, weakened immune systems, and in older adults. 
Can students living and studying outside the area access SHC services?
Yes! All enrolled SSU students can access SHC services. An initial visit will be conducted via phone or Zoom. If an SSU SHC provider feels that a student needs to be seen in person they will refer them to a CSU Student Health Center in their immediate area. The student health fee covers all basic services at any CSU Student Health Center, not just SSU. We can help you decide if you need to seek in-person care and help you navigate the process of getting care at another CSU Student Health Center. 
How should I prepare to live on or near campus?
We recommend bringing the following: 
Thermometer

Hand sanitizer

Over the counter medications and supplies for cold and flu symptoms (ex, tylenol, ibuprofen, sinus rinse kit, etc). 

Masks/facial coverings

Up to date medical health insurance card
We also strongly recommend that you obtain health insurance to cover any medical care that cannot be provided by the Student Health Center. This includes care that is required after hours or for severe illness that necessitates ambulance transport, urgent care or emergency room treatment. 
What can I do to stay healthy?
Get vaccinated!

Following public health and university guidelines regarding mask use. 

Stay 6 feet apart from others who don't live with you.

Avoid crowds and poorly ventilated indoor spaces.

Wash your hands often with soap and water or use hand sanitizer if soap and water aren't available.

Eat nutritious food, stay hydrated with water, stay active, get adequate sleep.

Stop smoking/vaping now. Get help at No Butts.

Care for your mental health. Take time to safely socialize with friends and family.  For more support, reach out to Counseling and Psychological Services at Sonoma State University or contact nomacares@sonoma.edu.
What do I do if I feel sick?
If you become sick with COVID-like symptoms, self-isolate at home until you are cleared by a healthcare provider.

If the illness is severe, you would like testing for COVID 19, or you have concerns or questions, call your personal healthcare provider or the Student Health Center at 707-664-2921 for advice. Do not go to the Student Health Center, an urgent care clinic or an emergency department without calling first. By calling ahead, it will allow the provider to prepare for your arrival. Do not call 911 or go to an emergency department unless you are having severe symptoms.
What is Quarantine? What is Isolation?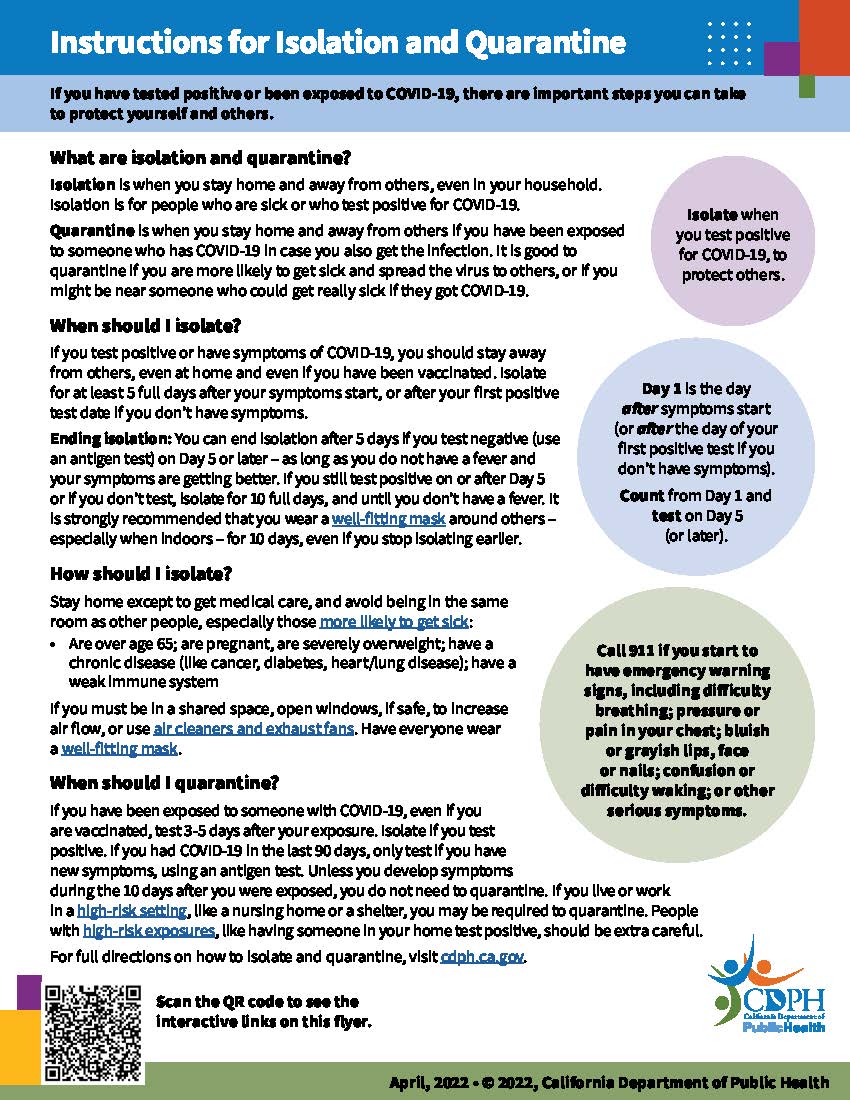 Will I get a COVID-19 test at the Student Health Center?
Can I get a COVID Vaccine?
COVID vaccines are now available to all those aged 6 months and older. To schedule an appointment for a COVID Vaccine or COVID Booster please call (707) 664-2921 or visit myhealthportal to schedule an appointment.
If you want to get a COVID vaccine off campus please visit MyTurn.
To get more information about where to get the COVID Vaccine, visit COVID 19 California.
More information on the Chancellor's Office announcement of a COVID vaccine requirement can be found here.
If you have questions please call the Student Health Center at (707) 664-2921 for assistance.
Can I get a COVID test in the community?
There are many ways to get tested in Sonoma County. If you have health insurance you can contact your healthcare provider to inquire about testing. Below are other resources for testing:
Where can I go for more information on COVID-19?
Also, continue to check this webpage for any updates on our response to this dynamic situation. We will do our very best to help you stay safe and healthy!